Ever wonder how much a festival pays to book your favorite band?
Thanks to Degy Entertainment, a major booking agency, we can give you a rough idea: an anonymous source passed along a list of the rates charged by the artists' agents per show, pre-expense. (Note: as a reader pointed out, these are asking prices, and are likely inflated. Actual prices negotiated by many of these performers are contingent on a variety of factors).
Before you read these lists, a few things should be clarified. First of all, they aren't perfect: a few acts are out of place, or suspiciously off — we'll try to address these below. You'll also notice that there are a few anomalies, and acts that aren't music-related (ie. Myth Busters, who you can rent for a mere $100k); Degy books speakers and corporate entertainment acts too, and a few slipped into these listings. Lastly, keep in mind that these lists aren't comprehensive and only contain artists booked through Degy.
Below, we've organized the artists by booking fees from highest ($100k+) to lowest ($1,000).
***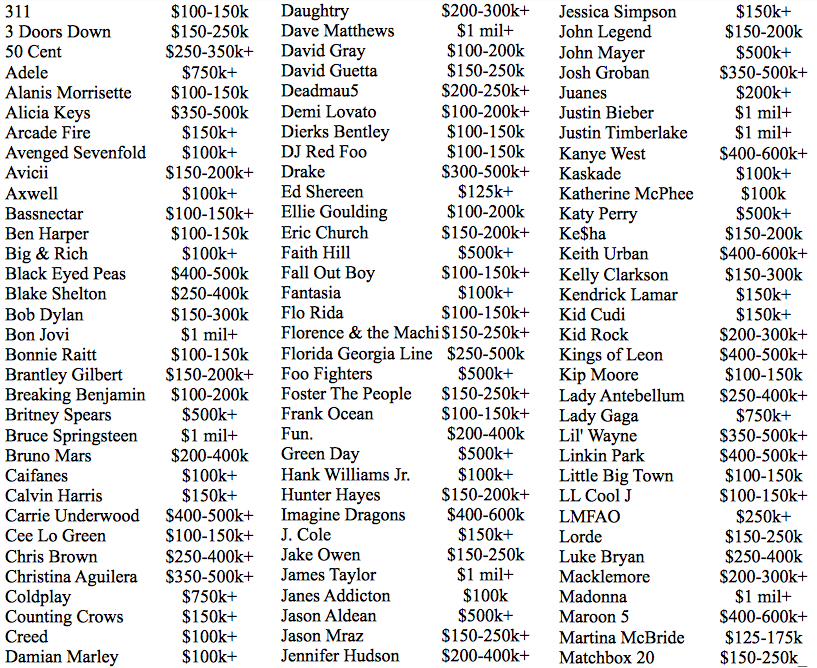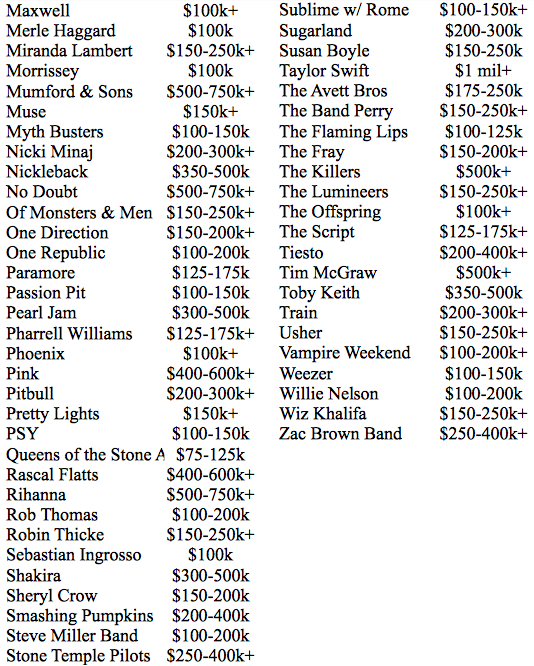 According to this list, a total of eight Degy acts command more than $1 million per show: Taylor Swift, Madonna, Justin Timberlake, Justin Bieber, James Taylor, Dave Matthews, Bruce Springsteen, and Bon Jovi. Surprisingly, half of these artists are over the age of 45.
But a few things seem strange here. Lady Gaga, who was 2013's second highest-grossing act (trailing only Madonna), almost certainly commands over $1 million per show, as opposed to the $750k figure reported here.
One Direction, Britain's most successful boy band of all time, also seems suspiciously low, listed here at "$150-200k+" per show. Another booking site suggests numbers nearly three times higher — $500,000-$1 million per show — which seems more realistic, considering the band's tremendous explosion in popularity.