Céline Dion explains that her return to Las Vegas is part of her duties to take care of ailing hu…
Ronda Rousey is finally getting a chance to put on spandex tights and a bustier to bring a comic book badass to life — but she won't be in the…
Rapper Wiz Khalifa was forced to the ground and handcuffed at Los Angeles international airport on Saturday after refusing to dismount his "hover board" – a self-balancing, two-wheeled scooter….
Brian Austin Green will almost certainly get spousal support from Megan Fox in their divorce, and the reason appears to stem from a terrible car accident.…
Reports from the 'Washington Daily News' yesterday, suggest the actor best known for his role on the television series 30 Rock has secretly got hitched to hist long-term relationship. Sorry, ladies: Tracy Morgan seems to be off the market.
Nearly four months after his car accident, Tracy Morgan is still struggling with his injuries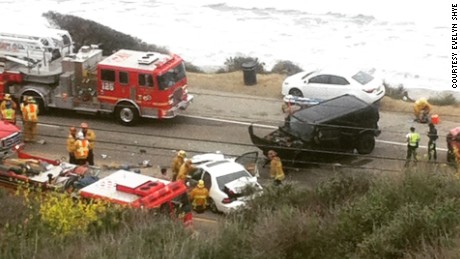 Caitlyn Jenner could face to a misdemeanor manslaughter charge for a four-car carsh in February, a Los Angeles County Sheriff's detective said Thursday.
LOS ANGELES (AP) – Caitlyn Jenner could face a vehicular manslaughter charge after sheriff's investigators found she was driving unsafely when she caused a chain-reaction crash that killed a woman in February, officials said Thursday.
Hollywood's not done cashing in on the 'hood — a "Straight Outta Compton" sequel, of sorts, is in the works featuring the rise of Snoop Dogg, Tupac and…
Last week, the Madame Tussauds wax museum in Las Vegas unveiled its latest star attraction: a provocatively posed likeness of Nicki Minaj.